COUNT DOWN FOR YOU TO ENTER
Get ahead as a Young Finance Professional
days
hours
minutes
seconds
days
hours
minutes
seconds
Frequently Asked Questions
Q: Who are the judges?

A: The judges are senior professional leaders in Financial Services. There is representation across all of the award categories and a comprehensive scoring criteria has been established for each category to benchmark every award submission.
Q: Do I have what it takes to enter?
A: If you are a high achiever and have met the eligibility criteria with the support of your employer, we highly recommend you enter. If you are unsure, please get in contact with us.
Q: How long does it take to enter a submission?
A: On average putting together an award submission takes two hours with potential exponential benefits to your career.
Q: Is it worth it if I don't win?
A: There are benefits of entering the awards even if you do not win.
These benefits are:
- Self awareness
It encourages you to take the time to reflect and self-assess your current career achievements. This self-awareness is a big determining factor in future career success.
- Be recognised for your skills and professionalism
In your professional career you need to learn when to put your hand up for the next opportunity and entering an awards program is a great first step in self-promotion.
- You get to attend the awards dinner
Enjoy a night out to celebrate the achievement of all young finance professionals in the industry and build your networks.
Q: How can I strengthen my awards submission?
A:
- Pick the right awards to enter
If you work in financial services and meet the age eligibility then pick the most appropriate segment and category for you. You can nominate for more than one award in the same segment if you wish. The FINSIA awards are endorsed by industry leaders and there's over $10,000 to be won!
- Answer the questions
Carefully answer the questions asked in the entry form. Ensure your response addresses the criteria outlined and is completed within the entry form. Also, back your submission up with evidence, examples and think about how you might be creative if picked for an interview.
- Write in plain English and adhere to the word limits
If you have other questions, please contact us directly and we will continue to update this page.
See how past winners have benefited
Former Hugh D T Williamson scholar Jacki Ellis has told InFinance how the award had a fundamental impact on her career.
Jacki used the bursary to enhance her leadership skills on a course in France.
The former Mercer Investment Consultant, who is now at First Super State where she is the Portfolio Manager of Retirement Strategy, recalled how valuable the award was to her career.
Mark Sawyer, who was the last winner, today urged under 35s to grab the opportunity to put themselves forward and for line managers to nominate colleagues who deserve to be recognised.
Mark, who is also a Chartered Banker, said the award will help the ongoing process to repair the financial services trust deficit, a cultural challenge that the sector is addressing in the wake of the Hayne Royal Commission.
Each of the 13 award category winners benefit from the below prizes. Additionally, the overall winner, the FINSIA Young Finance Professional of the year wins the $10,000 to spend on any professional development.
SOCIAL MEDIA PROFILE

Profile and advertisement on social media channels
AWARDS DINNER TICKETS

2 Complimentary tickets to the Award Dinner in February 2021 in Sydney (flights at own cost)
INFINANCEFEATURE

Profile interview for publication in InFinance magazine distributed to over 8000 finance professional in Australia and New Zealand
SPEAK ON A FINSIA WEBINAR

Opportunity to moderate or speak on a FINSIA webinar
FINSIA MEMBERSHIP

Complimentary FINSIA membership for one year - 1 Jan to 31 Dec 2021
TICKETS TO THE REGULATORS

Complimentary ticket to FINSIA's signature Event – The Regulators (flights at own cost)
YFP COMMITTEE

Invitation to join the Young Finance Professional Committee to drive events, CPD, qualifications and advocacy in your state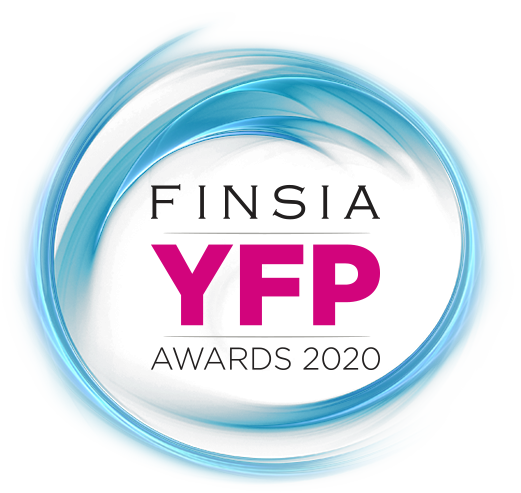 FINSIA is the professional body in Australia and New Zealand for the financial services industry.
Working with key stakeholders including the industry and regulators, FINSIA's purpose continues to be to raise professional standards of competency and conduct in financial services.
This support raising trust and pride for FINSIA members to deliver better community outcomes. It is achieved through education, ongoing professional development and engagement within a professional community.